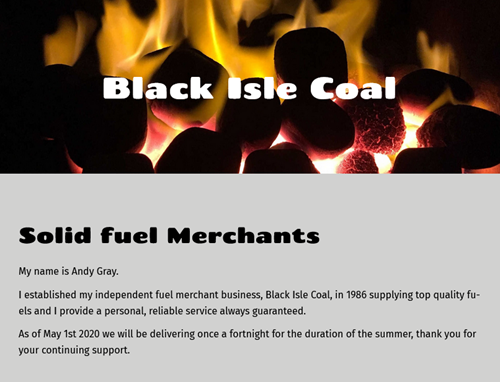 Black Isle Coal
The Spanglefish Team
Added at 16:00 on 14 October 2020
The first page we created on the new system was this single page site for the local coalman, Andy Gray.
Andy had been paying Yellow Pages to promote his business, but within a few weeks this simple, very small, inexpensive website was at the top of the Google search rankings for lots of local terms like 'Inverness Coal.
You can view Andy's site on www.blackislecoal.co.uk.
Comments
Garve - 12:41 on 07 November 2022

News articles can be set to allow visitors to your site to comment on them. If they do leave a comment it will not be publicly visible until you publish it, so you're in full control.

If there are comments waiting to be published they'll be highlighted to you on your site Dashboard.

It's a little rudimentary at the moment - in future we may add the option to create threaded replies and send email alerts to admins when a new comment is added for example.