Enhanced Shop
We've been building some enhancements to the shop functionality on the system. Please note that this still does not make Spanglefish a full ecommerce system, and if that's what you're looking for then Spanglefish probably isn't for you. But it does add the following:
On Site Shopping Cart
By default, Spanglefish uses the PayPal shopping cart to store the items that your customers have added to their basket. This works, but it can be slow to load and has limits compared to the functionality which an on-site shopping cart can give us.
The enhanced shop uses a cart built into the Spanglefish system. It still uses PayPal for the final checkout, but looks a bit more professional throughout the shopping process. It also means we've been able to add two bits of functionality.
Shipping / Postage Charges
We've added a limited shipping calculation system. Within your admin system you're able to create as many shipping bands as you need, so for example you might add bands called UK, Europe, Rest of World etc. You can also add a Collect from Store band which you could supply free shipping to.
It's important to realise that the system won't automatically detect where your customer is - they'll need to select the correct shipping band in the shopping cart, and because of this you'll want to double-check they've done so correctly before fulfilling their order.
As well as these geographic bands, if you're happy to enter weights for all your products then you can add weight bands, such as 'Up to 100g' and 'over 100g'. You can then add different shipping costs for each weight band in each geographic area.
For example you could have a shipping structure like below. The system would calculate the weight and the customer would select the correct region at which point the shipping charge would be added to their basket.
| Region | Up to 1kg | Over 1kg |
| --- | --- | --- |
| Collect from Store | 0 | 0 |
| UK | £1 | £3 |
| Europe | £2 | £4 |
| Rest of World | £3 | £5 |
Voucher Codes
Before checking out your customer can use a voucher code you've supplied them with to get a discount.
Within your admin system you can create voucher codes. For example you might create one called SAVE10 and set it to take 10% off of the total basket cost. You can give it an expiry date after which it won't work. You can set it so that it can only be used once by one person (and then email the code to a particular customer) or that it can be used many times by anyone, (and then publicise it on your social media).
As your customer is checking out they enter the code within their basket to get the discount.
Example Shopping Cart
Here you can see an image showing an example of how the Spanglefish Shopping Cart would work on your site. In this case the customer has taken advantage of a 30% off voucher and selected UK as their shipping location.
Note there's also a Continue Shopping button. If you only have a single page with a Shop block on it the button will take your customer back to that. If you have more than one page with Shop blocks the customer will get a popup menu with links to all your shop pages.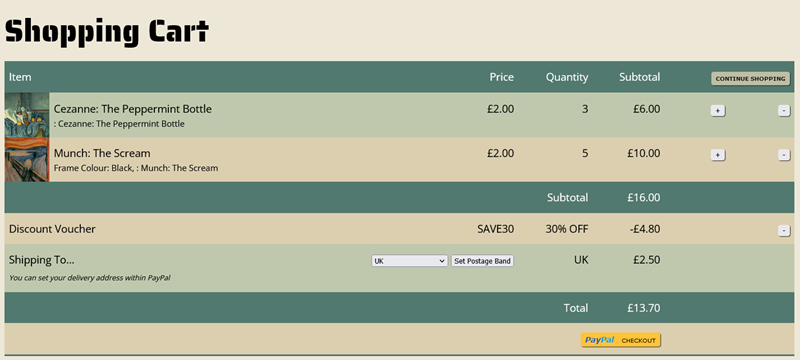 Price
We need to charge more for this functionality to cover the development costs. If you'd like to use this we'd charge you an extra £60 per annum on your annual fee. However we're happy to let you try it out before deciding - send an email to info@spanglefish.com or leave a message on the admin forum.
Future Improvements
As mentioned before, Spanglefish is never going to be a full-blown ecommerce system, but we can envisage some other improvements we might make to the Spanglefish cart if there is enough demand. Perhaps the ability to reduce all your stock by 10% for January etc. We're happy to listen to suggestions.